Latest Student Uploads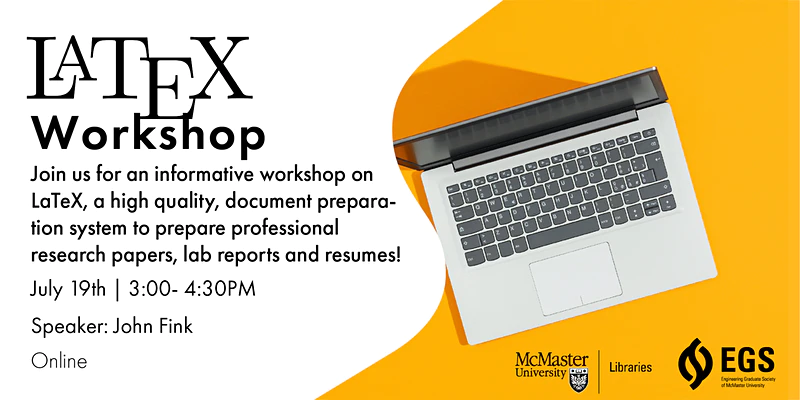 LaTeX Workshop
LaTeX is a high quality, document preparation system to prepare professional research papers, lab reports and resumes. After this workshop you'll be able to edit and compile documents using LaTeX, learn how to navigate the software, and create:
Tables, figures and graphs
Mathematical formulas
Chemical formulas and structures
You'll also learn how to integrate useful packages into LaTeX
Watch the video for an informative workshop on LaTeX (has similar features to Word, but does this in a flexible, intelligent, and aesthetically in pleasing manner)
PLAY VIDEO
Sample Behavioural and Situational Interview Questions
Preparing for an interview? Check out these sample behavioural and situational interview questions and the tips for answering them.
DOWNLOAD
How to Expand Your Network on LinkedIn
Just having a LinkedIn profile isn't enough! Follow these quick tips for expanding your network on LinkedIn.
DOWNLOAD
How to Connect with Other Professionals on LinkedIn
This guide gives real steps for connecting with other professionals on LinkedIn and building your professional network.
DOWNLOAD
How to Request an Informational Interview
Requesting an informational interview is one of many ways you can start building your professional network.
DOWNLOAD
How to Prepare for an Informational Interview
Preparing for an informational interview will be that much easier when you follow these tips!
DOWNLOAD
Tips for a Successful Co-op Work-term
This guide has quick tips for being successful during your co-op work-term.
DOWNLOAD
How to have a Difficult Conversation with your Supervisor
This guide will give you tips for having difficult conversations with your supervisor.
DOWNLOAD